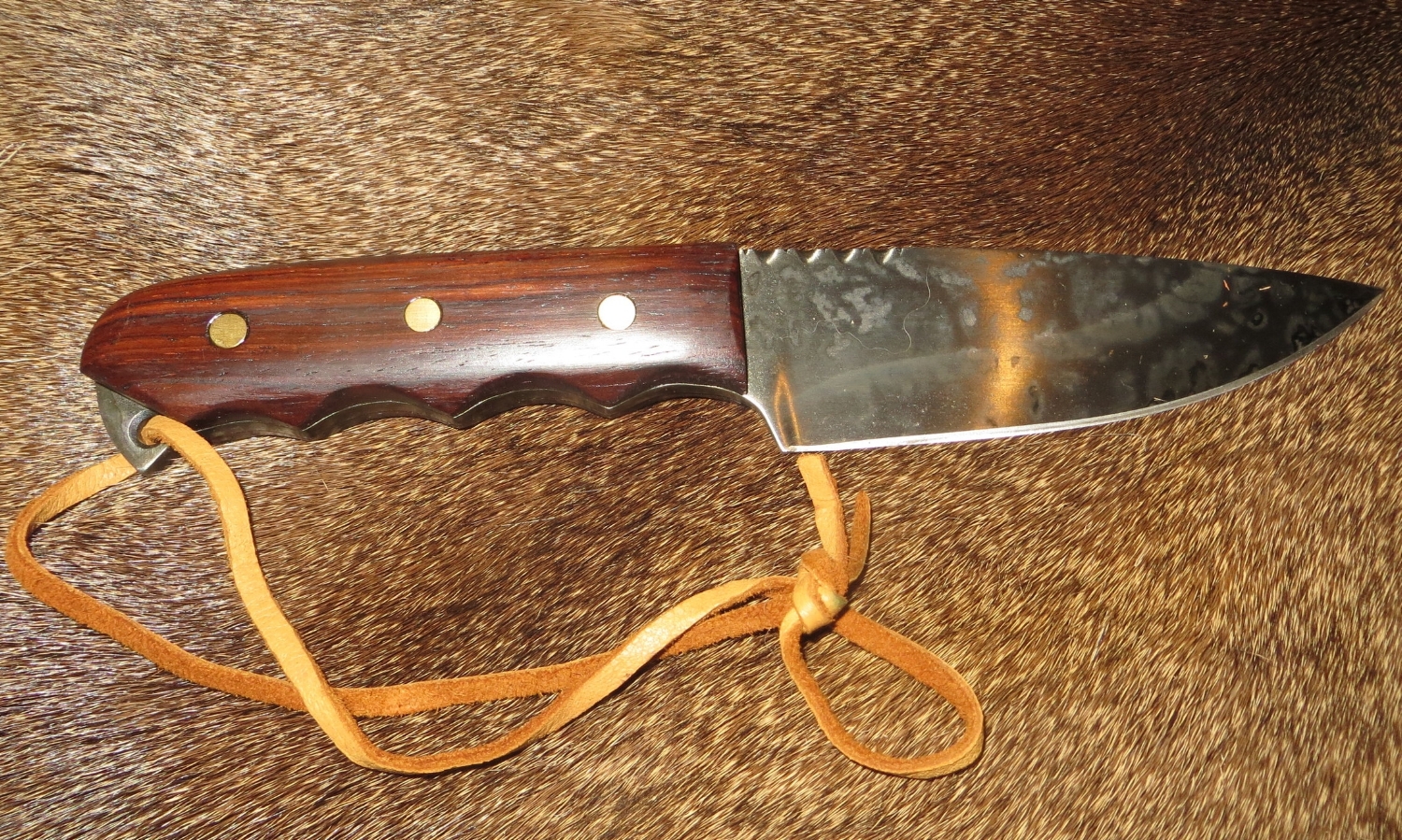 Woodsman's Skinner
The Traditional Woodsman Skinner. I will never claim to have "designed" this knife. It is the culmination of what I thought a proper field knife should be, and from Carlton's perspective, how a knife should be built.

The 4-inch blade is 1095 steel, with a Cocobolo handle. The steel requires some care. Clean it, oil it, don't just toss it in a drawer until you need it next year. The chemical etching gives it the patina of an old friend. It's meant to be used, and cared for. It's meant to be handed down, not tossed away.

Carlton has taken great care in the process to make sure the spine of the blade is more flexible than the cutting edge. Close inspection shows a "quench line" dividing the blade.
The blade shape is heavily influenced by the knives I "go to" the most when hunting. Plenty of belly for skinning, yet a tight enough point so opening up a whitetail doesn't require a second knife. Carlton modified my blade model a bit, adding scroll work on top and a more abrupt bottom edge, to keep the blade for slipping under load. We have a lanyard hole on the knife, I find them very handy when taking apart big game, when the handle get s slippery, or when using the knife in a spot where dropping it could be bad new (over water, in a treestand).

I won't claim "this is all the knife you will ever need"...most of us have a drawer full of "perfect knives". But to me this knife is special. I have spent a lifetime in the woods, fiddling around with different ideas for the perfect hunting knife. And while I wouldn't want to choose, if I had to, this knife can do almost anything required of a woodsman's knife.